BETTER THINGS
By WP Morgan
NOT HOW I WAS BUT WHAT I COULD BE IS WHAT MATTERS MOST TO ME!
Hebrews 12:24 (KJV) "And to Jesus the mediator of the new Covenant, and to the blood of sprinkling, that speaketh better things than that of Abel.".

The word better is both descriptive and comparative. It denotes the form and nature in which a person, thing or place is at a particular time.
Better, is in the second comparative degree. Life and things are in degrees.
Better means good to a greater extent; more excellent, suitable, desirable, nobler, superior, bigger, larger, longer, greater, worthier, finer, surpassing, preferable.
However, one cannot be better until he has been good. A thing or place cannot be better until they have first been good.
Better, therefore is a word of progression, graduation, advancement and ascension.
God, who is our creator and heavenly Father, wants us to be better and more so best in all areas of our lives. God wants us to progress or be superior in Ministry, Business, Marriage, Education, Career and in Health. He wants us to progress in the knowledge of His Word, the Holy Spirit and His Workings. Progress in prayer, Praise and Worship, preaching, teaching and witnessing.
But before we can experience any of those things that are better and progress to the best, we must do something consciously and practically.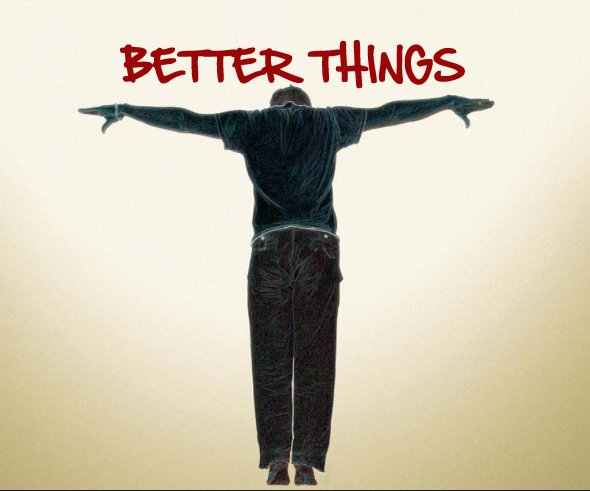 LET GO THE PAST COMPLETELY AND NOT PARTIALLY.

Isaiah 43:18 (KJV) "Remember ye not the former things neither consider the things of old".

Former means: belonging to an earlier time, previous, earlier, old, old time, ancient, bygone, past, ex-, one time, some time, late, departed.

The opposite of former is: Current, present, future, following.

To consider means: to go over in one's mind, to look at thoughtfully, to call to mind with comparison, to assess with regard to employing or using.

Isaiah 43:19 (KJV) "Behold, I will do a new thing; now it shall spring forth; shall ye not know it? I will even make a way in the wilderness, and rivers in the desert".


Wilderness is an uncultivated or uninhabited region, a desolate, pathless area, an overgrown tangle of weeds.

Desert is an arid area of land where vegetation is scarce or non-existent, especially because of low rainfall; an area of inactivity or deprivation.

If we are going to gain the best of God for our lives then we ought to take our minds off the glories, victories and progresses of old time; yesteryears. Take our minds off the hurts, pains, sufferings, losses, failures, disappointments, and injustices meted out to us in the past.

God always takes us into the future and not into the past. He sent His Son Jesus to deliver you and me from our ugly and shameful past and present us into a glorious future which we have not known before but we were destined to know.

Christianity or our relationship with Christ Jesus is to give us better minds and better hearts. A combination of the two make us better people, better Christians and better citizens qualified to enjoy better things in life and inherit a better spiritual Kingdom. Anyone who permits his or her past to dominate his or her present will definitely miss the better future.

As noble or grim that our past may have been, we cannot dwell on them neither rehearse them day after day. Such behavior will blind our vision and hinder our future progress. Always remember that whenever there is rain, there is sunshine.

Paul the great Apostle learned the Secret of Success when he said in Philippians 3:13-14 (KJV) "Brethren, I count not myself to have apprehended: but this one thing I do, forgetting those things which are behind, and reaching forth unto those things which are before [ahead], I press toward [hurry on] the mark for the prize of the high calling of God in Christ Jesus".

Where we have been is not what God desired for us. And what and where we are now in Ministry, Marriage, Business, Education, Career, Health and Finances is not what God desires for us either. God has set a higher mark for us to attain. He has set a high calling upon our lives to be attained through Jesus Christ, the Greatest Achiever.

But first, we must forget or let go completely those things that are behind. Bygones must be bygones.

Heaven here is called the mark , because it is the aim of every good Christian. The Christian's high calling originates from heaven; and it is to heaven in its tendency.

However, we must not just be heaven-minded to the extent that we forget or neglect our earthly vision. We are here to accomplish great things.

HIGH PRIEST SAMUEL

In 1 Samuel 16:1 (KJV), God said to Samuel "How long wilt thou mourn for Saul, seeing I have rejected him from reigning over Israel? Fill thy horn with oil and go, I will send thee to Jesse the Bethlehemite; for I have provided me a king among his sons".


What God was saying here literally to Samuel the Prophet is this: The era of Saul has come to an end. Israel must move on to fulfill purpose. As my Priest, Judge and Prophet over them, set your mind on what is ahead. What I am about to do for and with my people Israel among the nations of the world.

Yes, Saul may have been a great king, and may have won great battles as first king of the first republic of Israel, but he is now History. MOVE ON! There are much to be accomplished. Go on to fulfill destiny. Get fresh oil [anointing] for the assignment ahead. Stop operating under the old anointing. We are in the era of GRACE. The era of the HOLY SPIRIT, who leads the believer into better things and as well as brings better things to the believer. Be in union; in unreserved agreement with Him. Let Him handle your preaching, teaching, prayer, praise and worship, your plans and strategies, and all that you set up to do. The Holy Spirit alone knows the way to better things. He holds both the present and the future.





LET HIM GIVE YOU A SAFE RIDE.

God bless you.

Bishop Peter Morgan