God's Desires Towards Man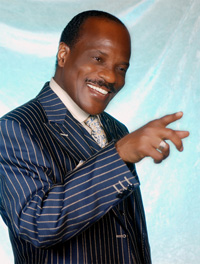 God loves us. That means He wants to give to us, and in return, to receive from us our worship, our praise, and our fellowship.
Searching through the pages of the New Testament writings, we see God Himself desiring for three (3) things:
A community of beings to whom He could reveal Himself, from whom He could receive glory, praise, worship, and with whom He could give and receive love.


A community of beings of whom He could be the Head, and with whom and through whom He could rule all creation."


A community of beings into whom He could build His likeness, to form a living reflection of Himself, an eternal dwelling place of God, to glorify Him forever.

Angels could not satisfy these desires. Robots could not satisfy these desires. No beings could satisfy these desires unless they were created in His image. That was where "MAN" came in. He was created in God's image and held the potential of having the relationship with God that He envisioned.
DO YOU KNOW WHY YOU HAVE AND WILL ALWAYS HAVE DESIRES AS LONG AS YOU LIVE? BECAUSE GOD WHO CREATED YOU HAS DESIRES. DO YOU EXPECT YOUR DESIRES TO BE FULFILLED? OF COURSE YOU DO; AND SO IS GOD. SO LET US BY HIS GRACE ENDEAVOR TO MAKE HIS DESIRES BE FULFILLED IN US HENCEFORTH. SHALOM!
(2) THE WALK OF FAITH.
"But truly I am full of power by the Spirit of The Lord. And of just and might.
To declare to Jacob his transgression.
And Israel his sin." Micah 3:8 NKJV.
Micah's life challenges every believer to live a life "full of power by the Spirit of The Lord"... a life in which we speak the Word of God with authority and integrity. It is the birthright of every believer in Jesus Christ of Nazareth, the Messiah, to receive and walk in the power of the Holy Spirit.
The reason why the Church of the 21st century is not manifesting the power of the Cross, which characterized the ministry of the 1st century Christians, is because a great many Christians today, from clergy to laity, are not filled with the Holy Spirit, let alone believe fully in the works of the Holy Spirit.
Jesus, the Head of the Church, was Himself filled with the Holy Spirit immediately after He was baptized by immersion in the river Jordan, before He began His earthly Ministry. Matthew 3:13-17. His disciples also did not go out to either preach or teach until they were all filled with the Holy Spirit.
Luke 24:49 and Acts 2 (read all verses). Any Christian service without the Holy Spirit's power and guidance cannot be fully effective and any Christian without the baptism of the Holy Spirit, with evidence, as was in the case of the Apostles of Jesus, is only a NOMINAL Believer. A nominal Christian cannot attack doctrines of devils which are so prevalent in our modern day society, neither can he attack and destroy hordes of demonic forces and their activities ferociously dominating high places of the human society. I counsel you to recognize the preeminence of the Holy Spirit in your life and ministry; and if you are not filled with Him, ask Jesus to fill you (Luke 11:13) with His Spirit, and when He does, fully submit to His leading always.