Rocks and Hands
By Veronica Johnson
Jesus replied, "You are blessed, Simon son of John because my Father in heaven has revealed this to you. You did not learn this from any human being. Now I say to you that you are Peter (which means 'rock'), and upon this rock I will build my church, and all the powers of hell will not conquer it. Matthew 16:17-19 (NLT)
There is a common saying in the African-American community, "Don't throw rocks and hide your hands". I grew up understanding that this phrase meant that a person should not do or say something harmful and then act as if they had no knowledge of the incident. As I stood in prayer this morning, the Holy Spirit began to show me some instances of "rocks and hands" in the scriptures.
David, unable to use Saul's, armor, simply picked five rocks with his hand.(1 Samuel 17:40) When God wanted to establish Israel as a force to be reckoned with in battle, their leader, Moses sat upon a rock and lifted his hands. (Exodus 17:12) Does anyone forget Rizpah who posted herself on a rock and with flailing hands prevented scavenging beasts from devouring the bodies of her slain sons?(2 Samuel 21:10) There are many occurrences that I could list.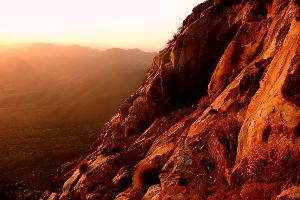 In the text above, readers eavesdrop on a personal discussion that has a very public revelation. Jesus is in conversation with His disciples. He asked them, who does the public believe Him to be? They answer with many different replies such as, Elijah and Jeremiah. Then the dialogue narrows to them. Who do you, who walk with Me, say that I am? We all know that Peter responds with one of the greatest epiphanies of the New Testament. "You are the Christ; the Anointed One of God". This is where our text picks up. Jesus pronounces the blessing that is on Peter. Of course we know that although his name meant "rock", the disclosure of Jesus' divinity was the true ROCK of the passage. Jesus went on to say that the church would be established on that rock of truth. He further explained that no matter what, Hell would never defeat it.
Today we are a part of the great church instituted by Jesus Christ. We have received many blows from the kingdom of darkness, yet, we remain strong. This is not our own doing. This is based on the words that our Founder spoke so many years ago. This let us know that our God does not throw rocks and hide His hands. He establishes rocks and then shows His hand.